THE BODHISATTVA MARSHALL PLAN
by Charles Carreon
6/1/14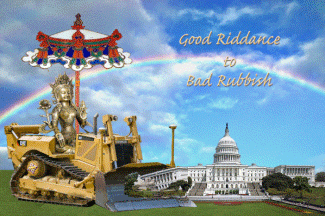 PHASE 1, DEMOLITION: RE-ESTABLISH THE ORIGINAL GROUND

1.A. Eliminate Phony Democracy
There's a time-lag between when something happens, and when you acknowledge it. People become bald before they acknowledge it, for example. But people who don't like you will have no trouble waking you up to the smell of the coffee, and pointing out, with unflattering cartoons in my case, that you don't have a big, healthy mane like you once did. Which started me thinking about whether there's been an advancement in hair transplantation tech since back in the eighties, when this Eastern European paralegal I knew got a hair transplant. I saw it more as an attempted hair transplant, if the purpose of hair transplant is to actually disguise baldness. He had sparsely reforested the area north of his forehead in an exact grid pattern, like a tree-farm. It was the sort of thing that kept me wondering. Why the heck did he bother? It was transparently ineffective. Now you can't say that for the coverup job that Congress has done since representative democracy went missing. Probably the majority of the people don't even realize it has happened. Congress may have a low approval rating, but Senators and Congressional reps aren't actually being burned in effigy, as would be the case if the truth were known -- that representative democracy is dead because the honored members of the Senate and the House represent only moneyed corporate interests and whoever else their handlers put in front of them while murmuring "big donor" in their ear.
At some point you don't have to ask if there's a waste disposal plant nearby. The stench makes the issue moot. Something has died here, and trillions upon trillions of stench-producing bacteria are hard at work, farting up a storm, and that's just gonna stink. The stench of corruption that has been emanating from Washington for all of these years since oh, Good Lord, my entire lifetime, that takes you back to Truman, should have alerted us to something. But like I say, it's been a damn good coverup!
America lost its nuclear cherry nine years before I was born, and everybody was in shock about it while I grew into long pants. That was called the fifties -- prime nostalgia belt stuff -- and if you want to know what everyone's nostalgic about, I'll tell you. It's not bobby sox and convertibles, waitresses on rollerskates, and people saying "Gee whiz!" No, it's the comforting atmosphere of sheer terror that pervaded a society where everyone knew that this day could be your last, because Kennedy and Kruschev were giving each other the hairy eyeball while fingering their nuclear triggers, and everybody knew that the red menace was serious. Serious, like the French say, as a heart attack. It was kind of the Zen of being a counterweight in the balance of terror. We were all in it together. That's one thing you can say for a nuclear holocaust. People say they want to go with their loved ones simultaneously. Nukes are like an app for that.
So I think you can make the argument that democracy was dead before I was born. It has just been a kinder, gentler form of martial law ever since. And now, as we are surrounded, conditioned, and monitored by omnipresent instruments of social control, we realize that we are the frog in the cooking pot so often spoken of.
The strange thing about stench is that your nose goes numb. There's plenty of towns that stink, inhabited by people who are the olfactory equivalent of deaf to stink. Usually the airborne agent is sulfur dioxide, the rotten-egg smell that is one of the core nasty smells around a paper mill. And people who live in paper towns are notoriously touchy about anyone saying their town stinks, because after a while you don't smell it anymore. So it goes without saying that a Congressperson or a Senator, is the last person who would have the first idea about what corruption is. Those who labor on the Congressional Hill will no doubt say that their little burg "smells like money," like the people who live in Franklin, Virginia, a paper-mill town known statewide for its cheerful, stink-deaf locals.
It's pretty simple. If you want to get rich, you have to put up with a lot of stink at first, and no one in Washington will argue with that. But pretty soon you don't notice anymore, and none of your friends notice, and anyone who brings it up, like that Medea Benjamin, will just be shown the exit by men wearing flak jackets, armed with Tasers and powerful semi-automatic handguns, in case the troublemaker is non-compliant and has to be neutralized or terminated.
Bush II took it as proof that Saddam Hussein had a totalitarian system because the people gave him 100% of their votes. Tyrant-to-tyrant, of course, he knew what he was talking about! It takes a stronger brand of tyrant to run a country with only 48% of the popular vote and nine judges on your side.
Talk about playin' poker with an ace in the hole. Dynastic succession is what we have here in the USA. With a two-party system that puts bluebloods in both corners, the power structure can hardly lose. Some Democrats still wring their hands over how the Supreme Court took Gore seriously when he conceded. Lawyers all agree the opinion that no judge would sign is nonsense, lacking any sound legal rationale. Because it was all about sportsmanship, you see? Gore conceded, and that should have been that, but then he waffled. His blue blood kind of flared up, and he forgot that he'd conceded. He reached for lawyers, and that was unsportsmanlike, so the Supreme Court had to intervene. They say English military victories were "won on the playing fields of Eton." Likewise, Bush v. Gore was won in the locker rooms of Yale and Harvard.
Political pundits of course would not know about the death of democracy, either. They haven't put two and two together to make four. Instead political pundits put out the idea that Congress is "gridlocked" because the "extremist Republicans" have "pushed the Republicans to the extreme right." They fail to note that this "gridlock" has not stopped a single armed drone from unleashing its load of death, has not gotten the U.S. military out of Afghanistan, has not stopped the banks from recouping all of their losses, or the stock market from minting money for flash traders. It has produced an inane system of mandatory medical insurance for healthy people who don't want and can't afford medical insurance, especially since they are unemployed and under-employed.
Congress, while "gridlocked on domestic policy," is full speed ahead on things like the Trans Pacific Partnership, that, if adopted, would restrict the scope of U.S. law based upon agreements negotiated in secret by corporate leaders and government apparatchiks. Congress is never "gridlocked on Israel," or "gridlocked on the Pentagon budget," or "gridlocked on investigating torture abuses." Nope, they're bipartisan on all that flag-wavey shit. Congress is only "gridlocked" on things like overhauling consumer bankruptcy law to allow people who only have one home to keep it. That's such a tough issue to get your head around, especially when you've got your head filled with images of how you're going to spend the campaign money you got from the mortgage-insurance company that is making so much money off the housing disaster. Congress is gridlocked.
The gridlock that exists in Congress is not accidental. It is as planned as everything else that Congress is doing. Collaboration "across the aisle" has been lost, we are told. What nonsense! There is sufficient collaboration to keep all of the agenda items of importance to the wealthy pushed to the fore of governmental action. The things that aren't getting done are things that the wealthy do not want done in a hurry. So you won't get peace in Israel, and you will get more New Yorkers moving there to populate the settlements. You won't get a civilian youth corps out into America, fixing the infrastructure and learning construction skills, and you will get higher student loan debt and a shrinking job market. You won't get immigration reform and respect for the human rights of people in ICE custody, and you will get more money for enforcement officers and detention centers.
What do we have if we do not have representative democracy? It's something like democracy, in one sense only. The populace appears to have given its consent to what government does. But this consent is phony. The phoniness was particularly apparent when the Nine Judges selected Bush II to rule, but it appears equally phony when the Congress orders the citizenry to buy health insurance, or the President orders drones to kill people because he thinks it will make U.S. citizens "more secure." Sometimes he has to kill American citizens with drone strikes. Of course he could not investigate torture. He wasn't powerful enough. The President, you see, does not have the power to investigate the acts of other Presidents. That's because he doesn't represent you. He represents the office of the Presidency. And he doesn't want future Presidents investigating his Presidency. You, and the people who were tortured, have no representation.
Yes, I said you have no representation. If something extremely awful were done to you by the government, who would you turn to? You know the government does awful things to people, right? Black prisons run by the CIA may seem a distant fantasy, but being sent to prison for a long time for what seems like small potatoes is a common experience for citizens of the U.S.A. It's more common for us Americans than for people in any other "first world" country. You got no one to help you if you fall into the clutches of the prosecution, except for a public defender, and while I don't speak ill of public defenders as a class, having been a damn good one myself, on your average day, if you're charged with a federal crime, lawyer or no lawyer, you can kiss your ass goodbye for a lengthy stretch. Unless of course, you're wealthy, or committed a financial crime too complicated for a jury to understand, and can afford a lawyer to defend you at trial. That seems to be working very well these days, for those few, rare, unfortunate financial executives who somehow attract the attention of a prosecutor, usually because their misdeeds can provide cover for those of much bigger criminals.
Can you survive in this phony democracy? Sure you can. You can vote. They would let a zombie vote in this system.